BE FORWARD Review: Should You Use This Used Car Site?
The BE FORWARD company and website was founded on 10 March 2004 for buying and exporting used cars as well as light and heavy trucks to all countries across the world. Going by the slogan "Always Taking A Step Forward" coined by the founder Hironori Yamakawa, this company has helped millions of people to take their lives and businesses to the next level by having access to the best Japanese, Korean, European and American second-hand vehicles on the market. It exports cars to more than 120 countries in the world today.
Front Page Experience
Landing on the BE FORWARD home page is like entering a real brick and mortar car showroom on a massive scale. It is fabulously easy to shop there.  This is a huge website. Huge! But despite this, you can navigate to any section of the website easily. For your first time visiting the site, you may want to read BE FORWARD reviews on each vehicle page so that you don't buy blindly. In addition, there might be a number of offers going down depending on the season and time of year, so you can purchase the perfect vehicle for even cheaper!
This is a smart website. When you land on the BE FORWARD Japan homepage, it automatically detects your location, and you are brought the top selling car models in your country. If there is an age limit to the age of the car you can import second hand, you are notified in advance.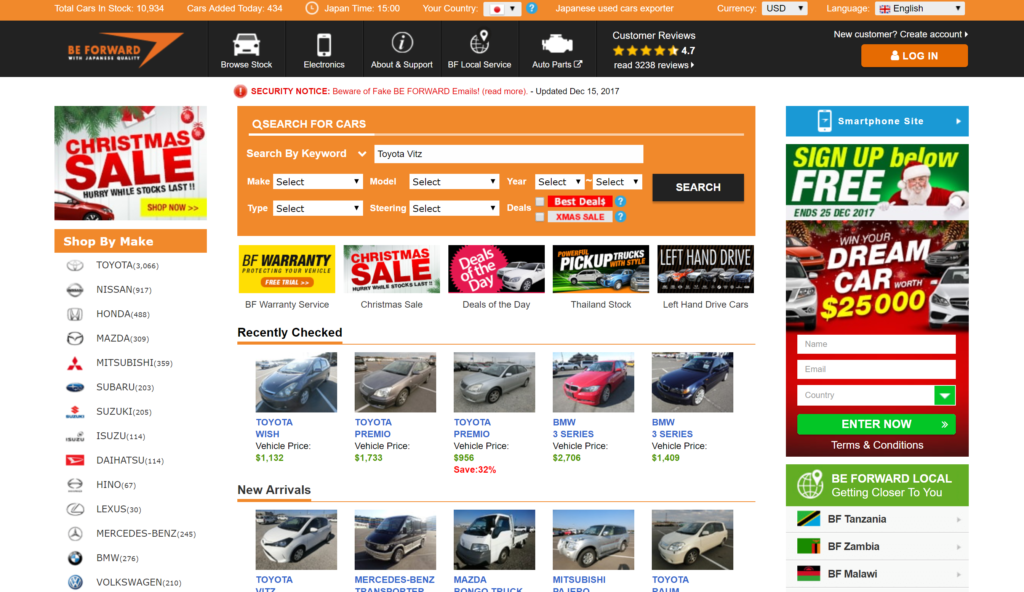 Not only is the website easy to navigate, it is also fantastic to look at, responsive for your mobile device, and most importantly, offers a wonderful array of used cars in super condition to browse through. This navigability makes it super easy and fast to find the car you are looking for.
However, there is one slightly negative feature — the homepage can appear a little cluttered for inexperienced users, especially at the top. Understandably, this is the focal point, but it looks as if they are trying too hard to cram everything in this spot. Buyers will most likely love the deals that are displayed here though, so they are likely to click on items in this area.
Before-Sale Support & Help Section
Before buying a car from the site, you may want to know whether you can access customer support. To put it simply, there is more than enough support. Firstly, there is a detailed FAQ page with everything about buying a BE FORWARD Toyota, Subaru, Nissan, or any other car. On this page, you will see that BE FORWARD have anticipated all your questions and answered them in an easily digestible format. Even if you are a first time buyer, you will find everything that you need to know here.
Secondly, there is a simple inquiry form that you can use to ask any question in which you will get a reply in less than 24 hours. This is a regular contact form, such as what you may find on many other websites.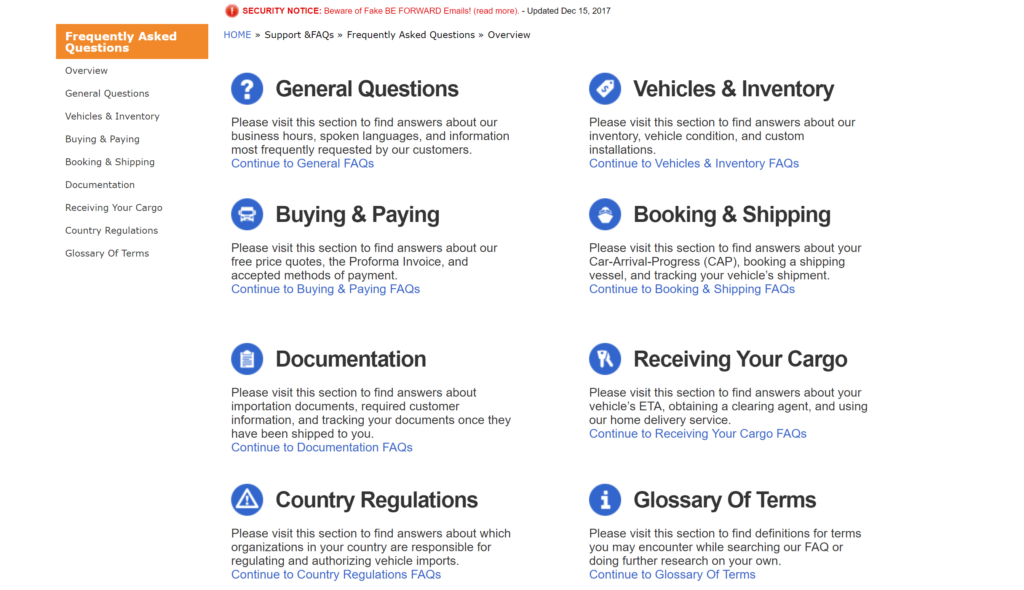 Thirdly, you can create an account with the website. Creating an account is free of charge, offers a number of additional benefits, and you can also opt out of getting their weekly newsletter if you do not want it.
Lastly, you can contact BE FORWARD on social media – Twitter, Facebook, Instagram, YouTube and Google+ – and catch up with them with any questions or concerns. Inquiries are responded to promptly.
Unfortunately, they do not have live chat feature on the site. If you have a burning question, you will have to get them on social media, or through the contact form.
Experience of Category Page & Vehicle Information Page
Buying a car on BE FORWARD is a very visual experience, because you can see dozens of images of what you are buying. Combining all models, there are hundreds of thousands of cars to choose from, and almost all models that have been released across their different generations are represented on the site.
The array of the vehicles is stunning, but there are filters to help you get what you need faster. You can filter by make (Toyota, Mitsubishi, Nissan, Honda, Daihatsu, Subaru and so on), by price (from under $400 to over $4,000), by type (SUV, Hatchback, sedan, coupe, station wagon, truck, pick up, van, mini-van, etc.), and more.
You can also shop by year of registration, depending on the regulations in your country. You may also like to browse by discount, as there are always great sales going on. These filters are very effective for quickly breaking down larger categories into exactly what you are looking for.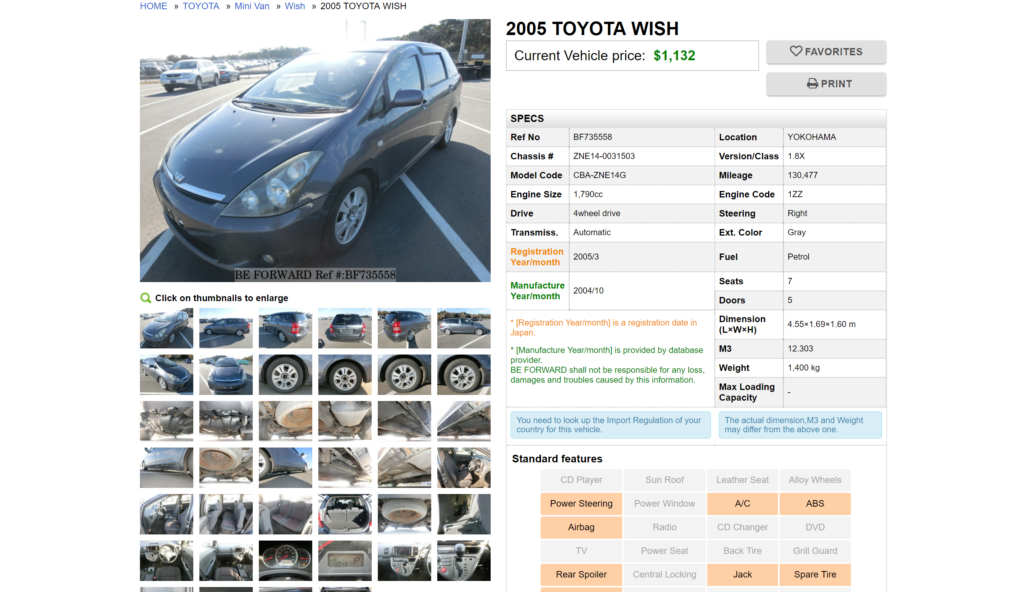 The car browsing is quite a shopping experience, more than you will ever get at a regular physical dealership. Click on any vehicle and you can access all of its images and details. If the BE FORWARD Toyota car you are interested in has a dent or a scratch, you can be sure it is clearly revealed beforehand in the pictures. There are multiple images of the interior, front and back, trunk, undercarriage, spare wheel, keys, dashboard, and exterior sides.
Honestly, there is no detail missing from the pictures. The only thing not revealed is the VIN number and other identifiable details, which are contained in the official documentation.
Buying Page/Importing Process
The purchase process is very simple. Firstly, there are thumbnail images of the many parts of the car. On the right side, there are details like the name of the car, year of manufacture and registration, current vehicle price, and specifications.
Scroll down the page and you will find a simple form where you are supposed to fill out your name, email and you can also choose the final destination. With that, the final price of the vehicle, plus or minus the port clearing charges will be displayed. That is the final cost from BE FORWARD, and there are no other hidden costs. The buying steps are very straightforward. You do not need any assistance if you know how to operate a computer or a smartphone.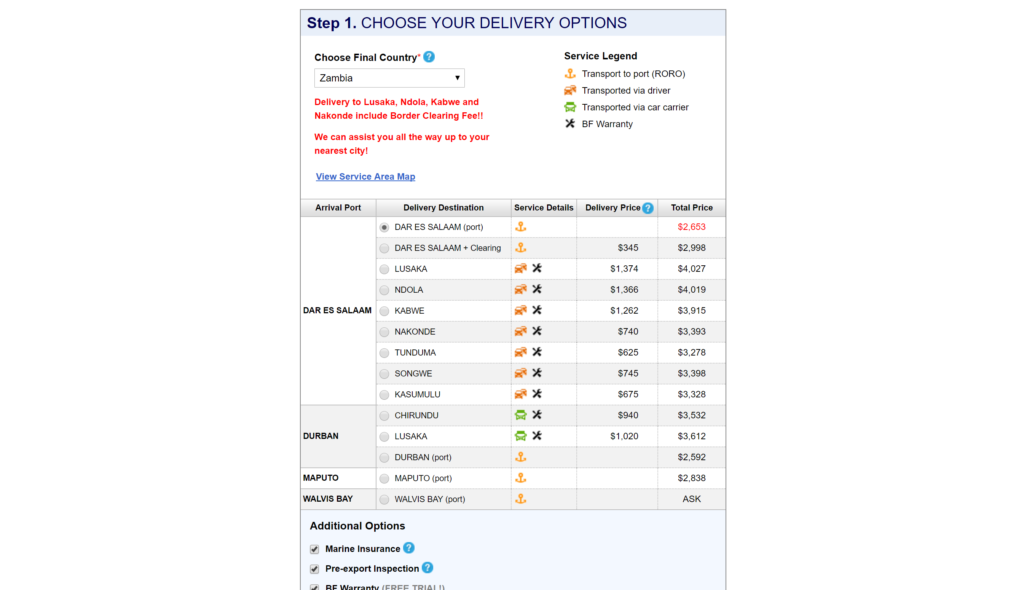 The shipping process is also very simple. You will receive a PDF document of the BE FORWARD shipping schedule so that you can see when to expect your car. With many ships, you can know the ports of call for your ship and the date it will arrive at your port. When you buy a car, it will be at the point of sale, which could be anywhere in Japan. It will then be transported to the port of departure. BE FORWARD does everything, so you just have to sit back and wait for your car to arrive. For a beginner the user experience can be a bit daunting, but as you browse the site everything starts falling into place.
In most of the countries where BE FORWARD exports second-hand cars, they have regional offices. There are local offices in places such as Mombasa in Kenya, Dar es Salaam in Tanzania, Mongolia, New Zealand, Georgia, Armenia, and many other places in the world. They specialize in clearing and forwarding, as well as helping locals import the cars of their choice from Japan.
After-sale Support & Services
With regional and country offices, customers can phone in or email for after sales support any time they need it. However, you should be aware of the working hours.
BE FORWARD offers warranty coverage for all the vehicles bought through their site. The coverage differs from one risk to another. Total loss of the vehicle, partial damage of the vehicle, breaking and dents, engine issues, transmission issues, electrical issues, missing items, and wrecker costs are protected under warranty, but should be claimed 30 days after landing at port of arrival or within 7 days after clearing, whichever comes sooner.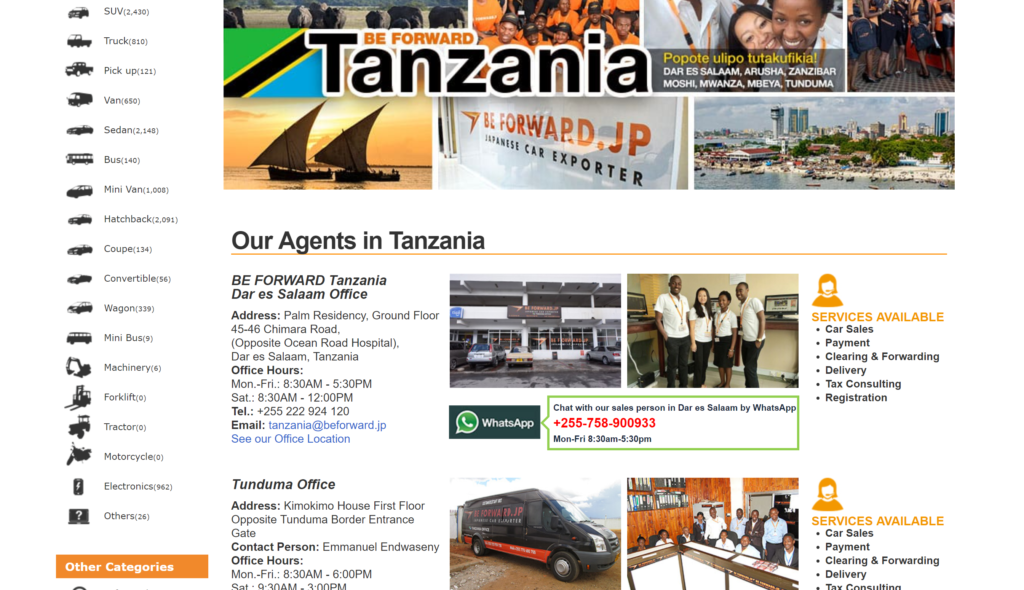 Many risks are not protected by this warranty. For example, the vessel ferrying the car sinking and expendable parts issues like filters, oils and fluids, brakes, batteries, suspension parts, tires, spark plugs and belts are also not protected by the warranty.
After sale service is extended even after you take ownership of your imported BE FORWARD vehicle as you can still contact the company on social media, through their email, through the contact form on the website, and through the nearest local office. Once you buy from this company, the collaboration is for life.
Conclusion: Should You Use BF?
Yes, you should. Although there are a few disadvantages to using BE FORWARD to import a secondhand car, the advantages far outweigh the disadvantages.
Here are the benefits:
Overall user-friendly website
Incredible variety of vehicles
Simple buying process
Great buying advice: for example, age limitation warnings for your country
Public shipping schedule so you can know when to expect your car
Warranty coverage
Final cost calculated for you including clearing and delivery fees
Here are the disadvantages:
No live chat feature on the site
Short warranty coverage
Cars may not ship as fast as you may want
Home page looks can be a little overly cluttered for some first-time users
More Used Car Site Reviews