AutoRec Review: How Trustworthy is this Japanese Used Car Site?
Having been in operation since 1977, AutoRec is one of the oldest companies in the used Japanese car export market today. AutoRec cars are sourced with the assurance of quality and service for their customers, and over the years it has become a one-stop center for customers from Asia, Africa, Oceania, the UK and elsewhere looking for high quality cars, trucks, and auto parts.
With their headquarters positioned in the industrial region of Chubu in Japan, AutoRec houses thousands of used vehicles, with close to 600 units are shipped to customers every month. But does the buying experience live up to its hype?
AutoRec goes the extra mile for their customers from Africa because they can recondition the vehicle, replace defective parts, add new tires, replace any old or defective batteries, and prepare both the interior and the engine of the car. This is sometimes necessary because of the African terrain and bad roads. Also, this means that you get to use the car as soon as you get it. Additionally, AutoRec buys sources, buys the cars, and then resells them. When you buy, it is from AutoRec directly.
Front Page Experience
It is very easy to navigate the AutoRec site, even if it is your first time to buy a car online. A single glance at the front page can tell you what you need to know.
From the search icon, you can search for any kind of car from the site, with the very top of the page housing most of the resources that you may need to buy a car. On the far right, there are testimonials and on the left, there is a section to search for your next car by type, like SUV, sedan, minivan, truck, van, hatchback, wagon, bus, and so on.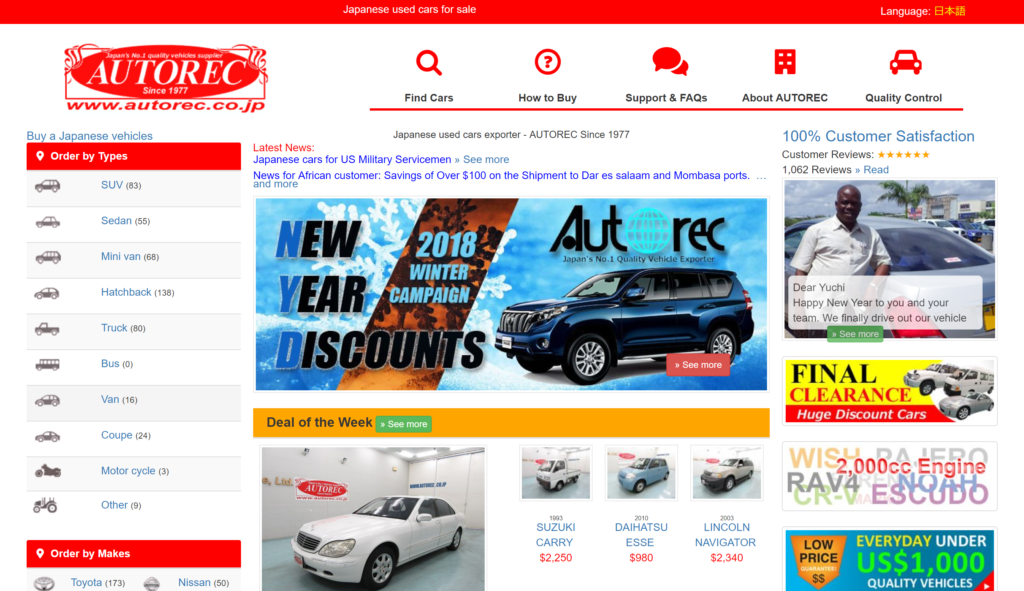 All these are shortcuts that have been designed to make your car search easy. If there are discounts or other types of offers, they are likely to be displayed in the top middle of the page. Usually, there is usually always a discount or sale campaign going on where you can save even more.
There are also sections for things such as deal of the week, hot new deals, new arrivals, and so on. The front page also gives additional information about the company, like why you should buy with them and their shipping policy and time.
Before-sale Support & Help Section
There is no live chat on the site, a feature that is missing on many other used car sites too, so it comes as no surprise. We found their FAQ pages very educative, and practically brimming with all the information that one may need to know before and after importing a car from Japan.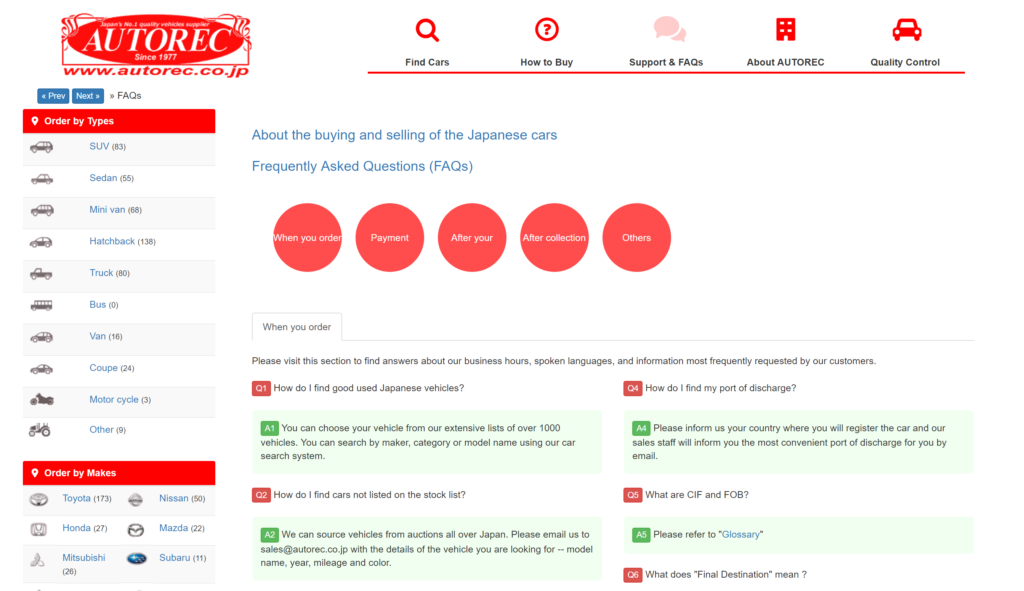 They have anticipated all the questions a buyer may have in mind, and answered them in detail, including where to get spare parts, how to know your port of entry, and many more. More support is available through their phone (international calls might cost a lot) and email. You can also contact them on their social media accounts like Facebook, Viber, and Whatsapp.
Category & Vehicle Information Pages
Click on any image of a vehicle on AutoRec and you will be taken to the product page of that car where you will view more pictures and details. They provide many images of their vehicles to give you as close a view to the car as possible. Several pictures of the interior, exterior, undercarriage, tires, suspension, trunk, dashboard and other areas are available. With AutoRec, you cannot make a blind buy.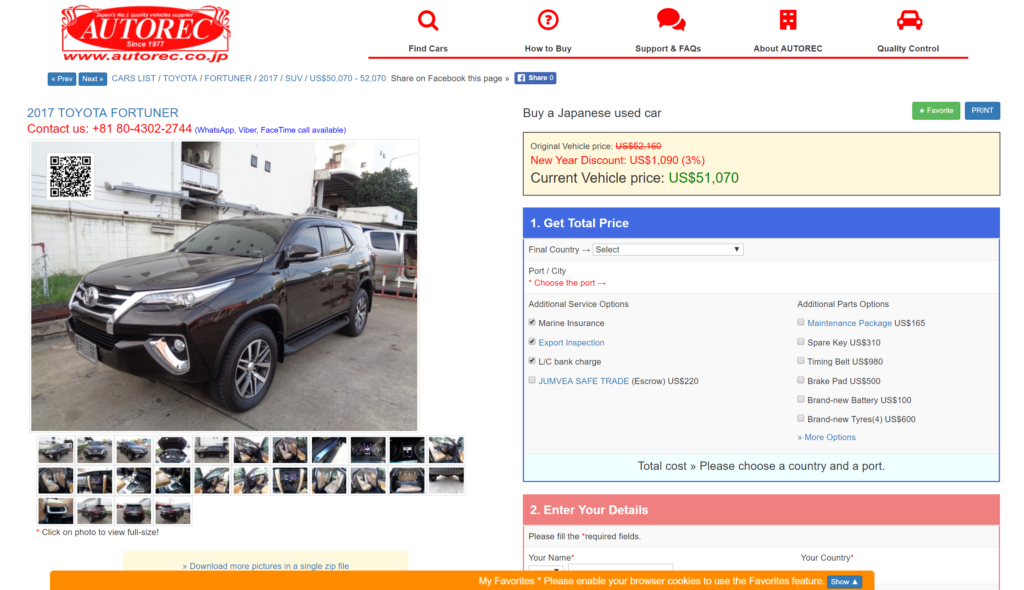 For some cars, there might also be a video. On the product information page, you will find the buying form to the right, including details such as spare key cost, marine insurance, other additional costs, and the final country. There is a second form after that where you are prompted to fill your personal details like your name, email, Skype ID, address, and telephone number. After you are done filling the forms, you can either click "Send an Inquiry" or "Proceed to order" to proceed with the purchasing process.
Buying Page & Importing Process
As detailed in the section above, once you click the product, it will take you to a more detailed product page where you will find the buying information and forms that you will be required to fill.
Once you submit your inquiry, you will get an email from AutoRec with more information about the car of your interest, the price up to the destination port, and if you agree with the details you will also be sent a proforma invoice before proceeding to authorise your bank to pay.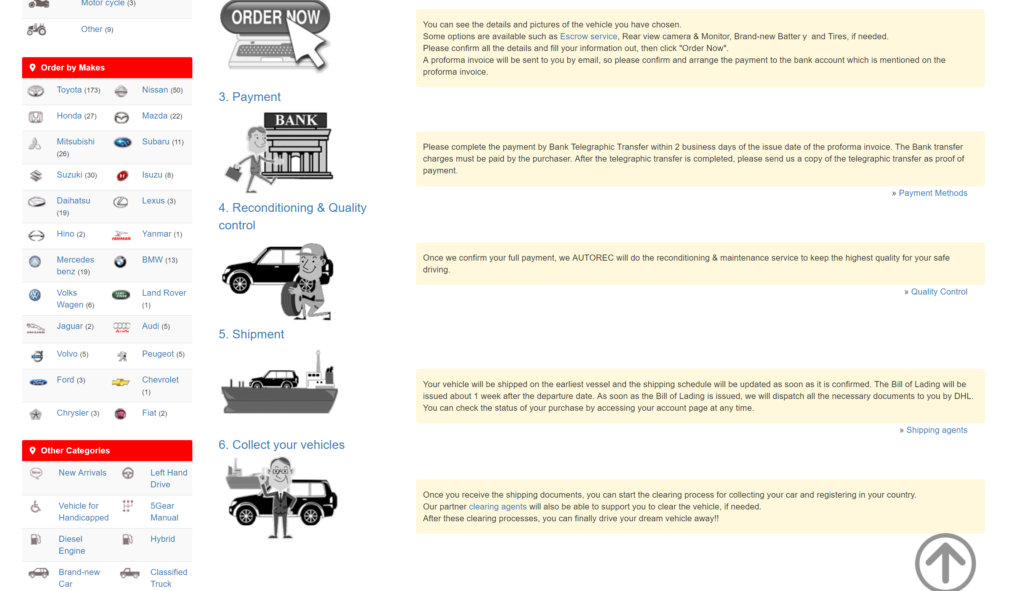 Methods of payment include PayPal, credit card through PayPal, telegraphic transfer, and letter of credit. After making the payment, shipping for your vehicle will be arranged. You will be notified of the estimated date of departure of the ship, and estimated date of arrival. As soon as the vessel departs, your documents are dispatched through DHL. You will be provided with a waybill number to track the documents, which include the Bill of Lading, Final Invoice, export certificate, marine insurance (if you paid for it), and any documents that your government may require.
After-sale Support & Services
AutoRec has amazing before-sale support and even better after-sale support. For example, if you get your car and during registration you are asked for a document or receipt ascertaining that you paid for the car, you can just contact AutoRec and they will prepare and send the document to you very fast.
If after using your car for a time and it needs a part, you can always get in touch and ask them where to get the part if it is not available locally. Mostly, they will ship it to you. What we can say is that this company is always hungry to do business, make return customers and most importantly, they are more for quality over quantity.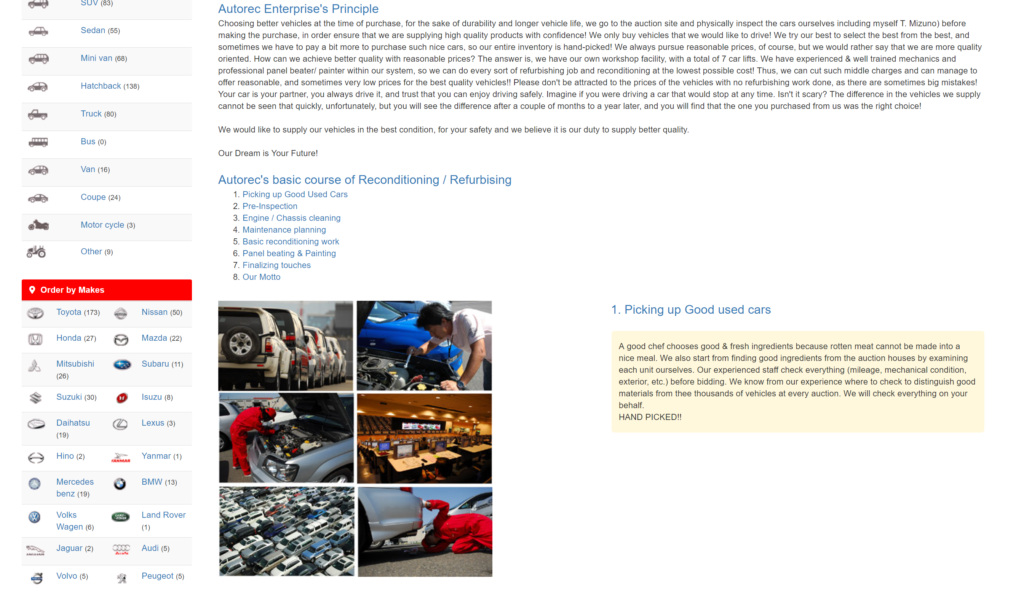 They have country representatives in almost every country that they export to. They also have a vibrant Facebook community where you can get involved with other Japanese used car enthusiasts.
Conclusion: Should You Use AutoRec?
Definitely yes, AutoRec has a long history of quality. If this is your first time to import a used car from Japan, they will help you take your baby steps in the process. They will give you all the before and after-sale support that you need and most importantly, they honestly tell you the condition of the car so that you can order repairs if you want.
Here are the pros and cons of buying a car with AutoRec:
Pros
Very easy to understand website layout
Can order repairs and parts replacement for your car
Helpful sales agents
Very informative FAQ section
Battery, tire and damaged parts replacement for African countries
Helpful buying information for every country it exports cars to
Cons
No information about warranty
No live chat on the site
Mostly exports right-hand drive cars
Can mistakenly buy a car with worn out parts if you do not request them to swap parts at extra cost
More Used Car Site Reviews